ARTICLES AND REVIEWS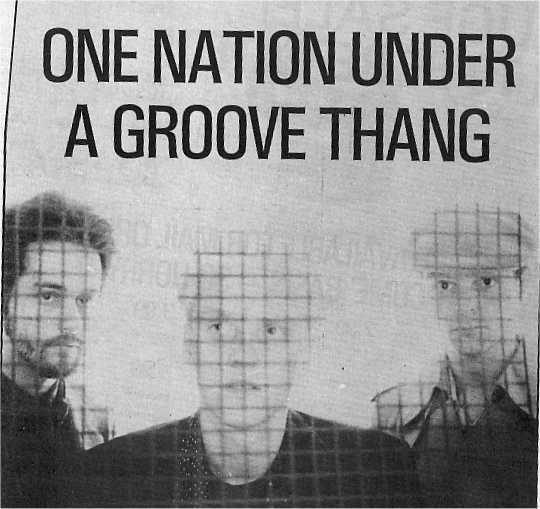 CHRIS BURKHAM GOES KNOCKING ON HEAVEN 17's DOOR
SOUNDS 11April1981 - Pics: Harry Papadopoulos
THE END.
IN THE November of 1980 The Human League made an announcement to the effect that they were now two separate entities. They had split.
There had been a certain amount of dissent and tension within the band in the weeks preceding this decision - so much so that any music(s) they recorded were all done separately, and never together. Their creative process had broken down, there was hardly any exchange of ideas within the band.
During the period leading up to the split it was still not clear exactly who was leaving who. Finally though, Phil Oakey (voice) and Adrian Wright (visuals) decided to continue as The Human League. Their first task as the new League was to recruit new members, as they were about to embark on a tour that had been finalised before the break-up of the original League. The tour was, understandably, something of a disappointment and received lukewarm reviews, although the audiences seemed to be content with the new League.
The other half of The Human League, Martyn Ware (synthesiser) and Ian Marsh (synthesiser) had immediately formed The British Electronic Foundation. A production and writing company that was to return to the original League aim of taking a wider view on things and dealing with more than one media.
A multi-media event that would employ those who had something to offer, who would fit in with their schemes.
As well as the statement about the formation of The BEF, Marsh and Ware also mentioned plans they already had for The BEF to work with an, as yet unnamed band. There were already three singles planned through this particular venture. After these initial statements The BEF remained silent.
Meanwhile the (new) League had recruited three new members and released a disappointing single. The collective lips of The BEF remained tightly closed all along, while it looked as if The League were steadily sliding into an area where they_ would only release pretty, trite electrotunes.
A START.
Suddenly words, whispers and rumours started filtering through. Something was happening, was stirring. Amongst world discontent and the violent tension of the 80s people were making statements, taking action, forming ideas. Part of the formation. The scheme of things to come.
...the TV set flickers in front of me, it shows a rather ancient film actor delivering a ridiculously over the top speech on patriotism to Trudeau's Canadian parliament. He spoke mysteriously about 'the protection of the Western hemisphere'. He even spoke of 'integrity'. He had a false charisma that was frightening in its' potency. Also, even more so, it was frightening in its 'shallowness. This man is the patriotically religious, religiously patriotic leader of the most po werful na tion in the world. Mr. RonaldReagan. The president of The United States Of America. A frightening man ...
Frightened men. As a direct result of Reagan's election a group of young men in Sheffield wrote a pertinent, tongue in cheek and eminently danceable song: 'We Don't Need That Facist Groove Thang'.
A song that emerged as a single by Heaven 17.
Heaven 17 is the first project to be put into action by The British Electronic Foundation. Things start to click. Things start to fall into place. It has arrived. It is happening.
More is mentioned. A future album by the delicious Heaven 17. A cassette of music from The BEF. The beat has only just started. The possibilities are immense. Heaven 17. The British Electronic Foundation. It's all go. Someone needs to talk about something ...
A PAUSE ...
The British Electronic Foundation are Ian Craig Marsh and Martin Ware. Heaven 17 are Marsh, Ware and Glenn Gregory on vocals. We meet. We eat. We sit and talk. First. The air had to be cleared. The subject just would not leave my whirling mind. What about the split? What really happened? What do you feel? Tumbling questions. Stammering questions. Smooth replies.
Ware: "When I found out about the split I contacted Glenn about three hours later. In fact I was the last to know about it all!"
Marsh: "The actual split, with Martin knowing what was going on, probably took, let me think, I mentioned it to him on the Saturday and he decided to go by the Wednesday, then I decided to go on the following Saturday. But I knew that things were building up to a confrontation before then!"
Ware: "We knew that something must have been going wrong, because we were all working on our own material in the studio."
Marsh: "There was no exchange of ideas whatsoever. Everyone had separate tapes except me! I just was not composing at all. It just stopped me dead, I mean the atmosphere was just so vile that I couldn't compose at all. I didn't even want to go into the studio."
Ware: "I think that it became very apparent over the last three to four months that the second album was the one to make us very successful, or the one to 'put the boot in', as it were! And it became increasingly apparent that there was no internal co-operation at all. I remember the feeling when I was getting out of it - I was elated! I still am actually. I'm really glad it happened, I felt so happy about what happened."
Marsh: "Personally, whenever I got any lyrical ideas I never felt confident enough to take them along to Phillip to interpret them. He has got a good voice, but I think he wastes it."
Ware: "Here we go again!"
Marsh: "No! I'm just saying the truth. We may as well get it out into the open, I'm not slagging off people, I'm only saying what I felt about it all. I never thought Phillip was improving. Over the two albums he never improved his style. He has got a good, strong voice, but I could never imagine him doing something like'Facist Groove Thang'. His voice always did sound so humourless."
Ware: "If Bob Last continues working with The League though, and I think he will, then they'll move away from the electronic side of things. Although it will always be part of it. If they've got any sense they'll realise that, and probably become quite successful."
The dead wood has been cleared away, and a spirit of adventure has taken its place. The tired old rock routine is being questioned all the time. The BEF are not just a group, they are a registered company with Marsh, Ware and Bob Last as the three shareholders - a business enterprise that is truly enterprising, and the essential tightness of The BEF is based around its organisation.
Ware: "What we're doing is a much more realistic way of approaching things, you have just got to get out of the old cliched way of organising groups. I think that there are going to be more organisations like this in the future, with more of a business ambience about them.
"I don't think PiL have succeeded at all, they're still just a group. Let's face it, Public Image Limited are a moderately successful group. I can't see any evidence of them being a business organisation at all."
"I think that people may find it interesting, in as much as it's an entirely different way of organising ones' abilities and creative talents. It's just getting away from the standard format of how groups are organised.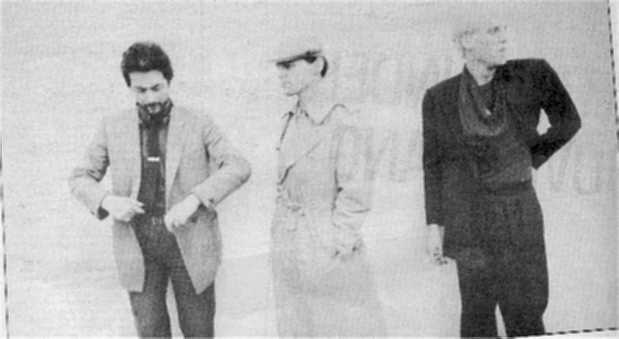 "It's just so refreshing for us, because we are allowed to do literally what we want, and because we're allowed that freedom we are more responsible about what we do. I think that groups generally suffer from that claustrophobic 'we've got to do this album by September, then we've got to do a tour' attitude - it's just an endless promotional round. Whereas we are involved in every aspect of what we do, so we can appreciate and enjoy participating in that as part of the creative process."
Marsh: "Also, once groups become popular at all they just aren't able to change, they feel tied down by what is expected of them. They . can only make really superficial changes. The individual members can't contribute to other major projects because they're tied down to the other people in the band. Whereas all of us can do what the hell we want, we're not tied to the group idea at all."
Clear cut and precise. True control of their destiny. There is a buzzing in the air that comes from activity. From movement, incessant movement. Ideas seem to run amok within The BEF, crashing and smashing into each other. Fusing together into a solid base for the future. Turning their backs on the past they look for new methods of communication. During the meal that preceded the 'interview proper' a mention was made about the possibility of a video magazine run by The BEF.
Ware: "I don't know whether this should be publicised yet ... well, you see The Human League has had a history of, not necessarily being ripped off, but several ideas have not been brought to full fruition after they've been discussed in public!"
Marsh: "And other people have got there first, while we're still arranging it!"
Ware: "Hence we're a bit more careful now!"
Well, are there any other projects that you can discuss without the risk of revealing too much?
Ware: "We're hoping to work with Cabaret Voltaire at some stage, probably to do a single with them under BEF. That is if they want to, but we're.definitely going to do something together.
"We're working with Clock DVA at the moment as well. Also there's the Heaven 17 album with Glenn. And we're looking for new artists, as new group entities under The BEF banner - as Heaven 17 is."
So you're trying to create an almost Tamlalike stable of artists?
Ware: "Yes, because obviously it gives you more flexibility, and it also enables you to close down an enterprise that is not paying off. Not just financially, but also artistically."
Are Virgin totally behind you on all of your projects?
Ware: "The proof of the pudding will be in the eating! If they don't back us up on anything, then we've got a provision in the contract where if they don't take an option on anything we present to them, and we must present it to them first, if they don't take up that option within a month then we're legally free to release it through whatever other company shows an interest. Even if it's our own company, which is a possibility we might consider."
"The actual business arrangement we've got with Virgin Records is as a production company. It's not a gimmick we've thought up to get press exposure. It is actually arranged in the sense that we are a separate company, and we do things off our own bat - so it's up to Virgin whether to accept it or not."
Are there any projects within The BEF that are not directly related to music?
Marsh: "For this first year our projects will mainly be musical ones. Even though we may have plans for other things."
That discreet veil of mystery once again shrouds their thoughts for the future. Their creeping (justifiable) paranoia about their ideas remaining theirs returns. Glenn Gregory mentions that he has has an idea that he wishes to discuss with Marsh and Ware later.
Ian Marsh has already stated that he basically distrusts the press, and obviously this writer is suspect as well. Surely there must be something we can discuss that does not lie within this 'secret' area!
Ware: "We're also trying to start our own publishing company as well, so that we can cream off some of the profits that otherwise publishing companies gain for no rightful reason. So then we will be totally selfcontained."
THE FUTURE is burning with the possibilities that are obviously inherent within a structure like The BEF. Already they have exploded into our hearts with the groovy single and the moody album.
They are careful now because, as they said, their ideas have often been stolen in the past and then exploited by others. Copyists abound. The most obvious example is the selfdubbed 'futurist' movement. A puerile tag for a movement which is seemingly devoid of any original ideas of its' own.
Ware. "One of the reasons The Human League split up was because we were not particularly interested in that tag. We were never 'futurist', we never claimed to be. It seems to me that the people who manufactured that tag are doing it for purely profit motives, and there's no creative credibility in it whatsoever. It's a load of bollocks. Just because you've got a synthesiser doesn't make you futuristic does it?
I remember when we first started out, we were slagged off because people said we sounded like Emerson, Lake and Palmer or Tangerine Dream. Nobody would say that ELP are futuristic, but they're a damn sight more creative than most of the futurist bands around today!"
So, a total disassociation with a genre that, more often than not, cites The Human League as one of their inspirations. But true words. The futurists do seem to be riding a train to synthesised oblivion - and they jumped (someone elses) train too late.
That eternal movement, which is so important in contemporary music, has moved on one more step. It has assimilated another style, the emphasis has shifted once again. The message is in the brevity of the statement. A dancy mind. The mindful dance.
The BEF, true to their word, have planned three singles ahead, the first of which, '(We Don't Need This) Facist Groove Thang', should already be in your record collection. 'I Am The Money' and 'Let's All Make A-Bomb' are the next two,,and they precede,the Heaven 17 album.
The album will basically be in the same mood as the singles - almost, in fact, a collection of single type tracks - a dancing party album. Something to groove to all the way through!
Marsh: "It's not just that we are planning things that way (singles orientated) it's just that a lot of things that we are writing at the moment do seem to be single material."
Ware: "In the final analysis it is what we prefer listening to."
Marsh: "Short, snappy, to the point and that's it!"
Ware: "It's our taste in music. I mean, we are fairly dance music obsessed at the moment. We listen to a lot of black music, not the obscure stuff but disco chart material. Preferably funk, although I know that is very fashionable at the moment!"
Marsh: "Personally I've been listening to a lot of Parliament and Funkadelic."
'One Nation Under A Groove' I screamed. My mind doing a body dance.
Marsh: "Yes! Or in the case of Spandau Ballet, five white boys out of a groove!"
Ouch! Ian's claws are sharp. "The thing that strikes me as being most funny about it, is the fact that they're all so bleeding fat and ugly!" he continues, "That guy in the string vest, he looked awful, he had podgy arms!" Obviously Ian's something of a fatist!
"None of them look like the Adonis figure on the cover I'm sure! String vest! Very worker chic! We'll show them - three young men from Sheffield, of immaculate working class conception, bringing the gutter vision to life!"
MIAOW! The bitching stops, and Ian smiles to himself. Gregory, Marsh and Ware fit together so well. Throughout our conversation they bounce flip remarks off each other, and trade in a certain bitchiness that some would define as vicious cruelty. But the smiles are there. The awareness and knowledge are there. The capabilities to do-so much are there. The single and the cassette are proof!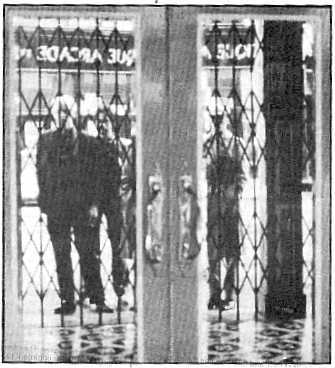 The single: ease it into your mind. Its' whole structure is so right, so now. Gregory sings the funkoid lyrics with a grey sensuality while Marsh and Ware slide their synthesised sound around his voice - the juicy bonus being 17 year old John Wilson's judiciously flavoured bass and dance time guitar.
After all this it still has room to voice their feelings, in ridiculously over the top funk jargon, about the election of Reagan. A backdrop for 81, 'Facist Groove Thang' is rapping about the USA rather than the UK.
Marsh: "True. That's something that people might have missed. The way it came out in Morley's article was that it was something of a hangover from the Presidential election. It wasn't a hangover, it was written directly after that. It was written after the results of the election, and obviously all about what it entails."
Ware: "I found that when trying to describe it to my mum what it was about, I actually had to admit that it was an anti-American song. It was the only way she could understand what the lyrics were about. It is an anti-American song."
Marsh: "It's all quite sickening. They're trying to build a blessed land, the new Jerusalem!"
Gregory: "The dictionary definition of 'Groove' is very good, particularly in context with 'Facist Groove Thang'. It says something like 'self dug track never wavering, onward, often to destruction.'!"
Ware: "The point is it's ourdestruction. There's no way to escape it. It's not as if we are all raging communists, it's just that politics have come so much to the forefront now, that to ignore them is to ones own detriment. I mean, you can't ignore the fact that the person in power in America is just not fitted or the job!
Marsh: "Also a lot of the generals' chat is just a mite offensive. The other' day I heard a fairly outrageous comment to be put into a documentary that was to be seen by the British public. An American General was asked whether this new cruise missile was meant to restrict nuclear war to The European Theatre Of Operations. And he said: 'Well we fought the first world war in Europe and we fought the Second World War in Europe, and if at all possible we'll keep the Third World War in Europe!'
"People have been so busy poking the red from under the bed, that England's bastard son has returned home and let itself in the backdoor! And it hasn't quite grown up the way we wanted it to! The whole thing is just a bad joke at the moment, and you can't ignore it, can you?"
They know. They care. Stands to be made, actions have to be taken. The BEF are not dealing in (leftist) dogma or doctrine though, they are dealing in subjects that concern all of us. Love to War. Both are relevant. Dance to the grave? Or try and make a different way: change the course.
I travelled home, the mood instrumentalism of 'Music For Stowaways' massaging my ears. It would be all too easy to become despondent, to look at the greyness of it all and become another grey nothing. But there is so much that is sparkling, that is vital. There are things that still matter. There are emotions and feelings that have not yet become sullied, and won't become so.
There is so much that can be done. Heaven 17 and The BEF have got the spark that matters. As Martin Ware said, "Things have just got to change."
... A CONTINUATION
Changing views. New attitudes. This is the one. This has to be the year. Minds are opening up - but not quite wide enough just yet! The light is pouring in, the fight is right. And Musically! The charts are opening up - but not quite wide enough just yet! Here comes the summer of funk.
Scream with me! Idiotic Radio One, running scared as usual, have unofficially 'banned' the Heaven 17 single. The blinkered bigots are scared by the word 'facist' . An emotive word. A word that makes people react.
All the same, I just know that the single will chart, that it will get played. The barriers are toppling, are falling. Everything's falling, falling into place. This really is the year. Christ, this is just the start, only ...
THE BEGINNING.